ASU's alliance with Mayo Clinic is driving development of Discovery Oasis, home of the Mayo Clinic and ASU Alliance for Health Care. The Health Futures Center, ASU's first building at this Innovation Zone, houses leading-edge facilities for biomedical engineering and informatics research labs, advanced simulation health care technology, and workplace and meeting spaces. It also supports interdepartmental research and collaborative programs with Mayo Clinic — including ASU's College of Health Solutions, Edson College of Nursing and Health Innovation, Ira A. Fulton Schools of Engineering, and the J. Orin Edson Entrepreneurship and Innovation Institute.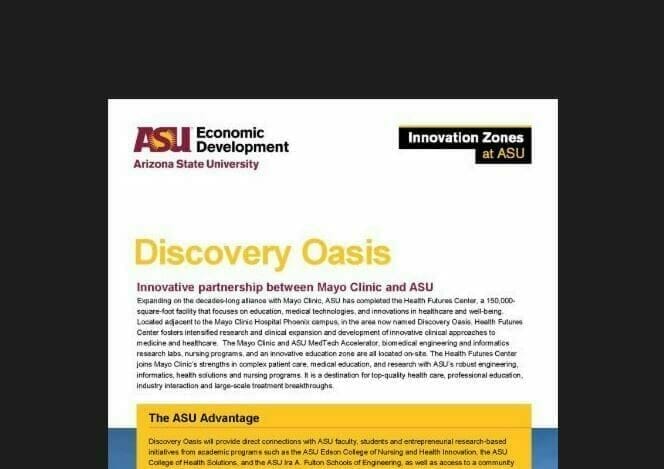 Discovery Oasis
View or download a printable PDF version of this web page
Specifications
Discovery Oasis supports and advances intensified research, clinical expansion and development of innovative clinical approaches to medicine and healthcare through the Mayo Clinic and ASU MedTech Accelerator. Other areas of focus include biomedical engineering and informatics research labs, nursing programs and an innovative education zone.
Home to world-class care providers and medical experts.
Center for high-tech health care innovation.
Focus on early-stage medical device and health care technology companies.
The ASU Health Futures Center is a 150,000-square-foot facility.
Opportunity for build-to-suit Class A facilities.
Ideal co-location opportunities for companies with biomedicine, health sciences, medical technologies, big data and computational focus.
---
Benefits
Co-location at Discovery Oasis offers high-tech medical companies the opportunity to become established, grow and flourish in one of the most high-profile up-and-coming medical districts in the nation.
Cutting-edge research facilities.
Expansive meeting and laboratory space.
Biomedical engineering medical facilities.
Whether you're looking for corporate headquarters, a regional office, or medical laboratory workspace, if your company is primarily or tangentially connected to medical research or health care, Discovery Oasis is the place to be.
Job creation
An increasing demand for advanced health care solutions puts medical industries at the forefront of future job creation.
Medical facilities
The center is home to hospitals including the world-renowned Mayo Clinic, as well as more than a dozen medical facilities.
Central location
Located 40 minutes from Sky Harbor International Airport and 15 minutes from the Scottsdale Regional Airport, this central location allows for ease of transportation access.
---
Location
Discovery Oasis includes ASU's Health Futures Center and the Mayo Clinic Phoenix Hospital, between 56th and 64th Streets south of Loop 101 in Phoenix.
Area stats
Easy highway and airport access.
Direct connections with ASU faculty, students and entrepreneurial research-based initiatives.
Proximity to a community of companies in technology-driven markets in health care, medical sciences and wellness.
Transportation
Located in the northern part of the Greater Phoenix metro area, Discovery Oasis is in close proximity to major highways, Sky Harbor International Airport and public transportation.
Multi-modal transit system.
Valley Metro bus service.
---
Gallery
Get in touch with questions and comments
ASU Economic Development is here to be your partner, your resource and your advocate. Contact us today for a personal consultation.